Information about different types of thyroid disorders
Information about different types of thyroid disorders  ;
Importance of thyroid gland 
Thyroid gland is the endocrine gland of our body situated in the neck region. It has two lobes that surround the trachea thus it looks like a butterfly. This is the important gland as it regulates the body's metabolism. Thyroid gland makes thyroid hormones that control the cellular activity. This gland controls protein production by body, how quickly it uses energy and in what manner our body responds to the other hormones. Pituitary gland which is the master gland of the endocrine system control and regulate the functions of thyroid gland. If thyroid hormone production gets altered than it causes several disorders.
Causes of thyroid disorders
The abnormal changes in the thyroid hormone make one face to several disorders. Low hormone production denotes an underactive thyroid whereas overactive thyroid causes abnormal production of thyroid hormones. There are other disorders also but these two are quite prominent. The most common reason for these disorders is when body's immune system attacks your own tissues thus causing thyroid gland to produce more hormones. A nodule or growth in the thyroid gland also triggers the gland to produce more hormones. Some medicines also cause thyroid gland to produce excess of hormones.
Various kinds of thyroid disorders
The different types of thyroid disorders are explain below along with the symptoms.
Hyperthyroidism or overactive thyroid – This occurs because of too much production of thyroid hormones. This abnormal increase in the thyroid hormones make the metabolism faster and thus the sufferer often feel hotter and can slowly tend to lose weight. Along with it you can also experience lack of sleep, restlessness, fast heartbeats, breathlessness, light or absent menstrual periods, fatigue, shaking of hands, sudden weight loss, weakness in the muscles, hair loss. These symptoms are common in hyperthyroidism sufferer.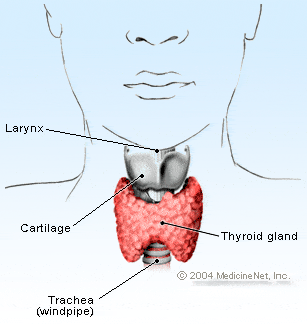 Hypothyroidism or underactive thyroid – The low production of thyroid hormone causes this health condition. This disorder slows down the metabolism rate of body. There are several factors that causing this condition. One of the common causes is the low production of thyroid stimulating hormone (TSH) which eventually signals thyroid gland to stop the production of thyroid hormones. Fatigue, weight gain, dry hair and skin, cold intolerance, muscle cramps, depression, memory loss, abnormal menstrual cycle and low sexual desire.
Goiter – It is the abnormal enlargement of thyroid gland. This is not related to the over or under production of thyroid hormones. The increase in the thyroid stimulating hormone released by pituitary gland causes enlargement of thyroid gland.
Thyroid cancer – It is quite common in women than men. It represent presence of nodule on thyroid gland causing no such symptoms but 99% of the nodules are non cancerous. Neck pains, enlarged lymph nodes, hoarseness in the voice are some of the symptoms.
Our previous article Developmental Characteristics of Children with Down Syndrome in the title down syndrome children information is provided..