With the opening of schools, urinary incontinence can increase in children in primary and secondary education. Approximately 20% of school-age children in the family of incontinence cases and teachers' approach can be effective in solving the problem.
1 in 5 children have urine problems About 20% of school-age children have urinary problems. These urinary problems usually occur with symptoms such as urinary incontinence, frequent urination, sudden urination,    burning urination. This can often be prevented by taking simple measures. However, if the problems are not taken into consideration, the social pressure on the child may negatively affect the relations of friends and school success. A serious discomfort may be omitted, even if it is not taken seriously, that the underlying urinary incontinence may risk even the kidneys
Don't blame your child
"The child should be careful not to perceive this problem as if it belonged to him / her. It should be borne in mind that in cases that may occur during treatment, accusatory and punitive behaviors should be avoided. Families and teachers should not worry when the children have detected that they have been suffering from urine. Rattling, not supporting, or blaming children who wets gold cannot correct this condition and make them completely resistant to treatment. When the child is determined to wet the bottom of his support;
Urination frequency and fluid intake should be determined
It should be ensured to go to the toilet every 2 hours
Coke, soda, acid drinks, tea, coffee, such as bladder to stay away from drinks should be provided. Pay attention to the child's movements One of the symptoms of urinary problems in children is urinary retention maneuvers. For children who are suddenly jammed in the urine, they should be observed by the parents in order to prevent or delay urinary incontinence. In girls, it is generally observed that movements such as crossing legs, crouching with knees and shaking with heel are observed, whereas in boys, movement of the penis end can be monitored by hand. If parents experience these situations frequently, it would be appropriate to see a child urology physician.
Causes of urinary incontinence in children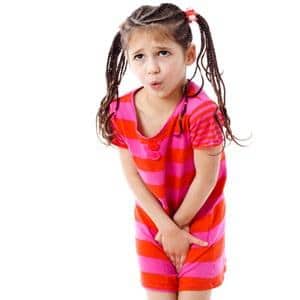 Urinary incontinence may be a symptom of serious illness It is considered as the right approach to consult a pediatric urologist if the complaints persist despite the measures such as the regulation of eating and drinking habits, and the setting of the urination hours. Although urinary incontinence and other urinary complaints often seem innocent, they can sometimes be a symptom of more serious diseases.
Urinary tract infections, neurogenic bladder, urinary leakage from the bladder to the kidneys, such as vesicoureteral reflux, and some voiding dysfunctions that can lead to damage in the kidneys are also caused by similar complaints. Therefore, urinary incontinence should be taken seriously and should not be postponed. Urinary incontinence and other urinary problems in children are problems that can be solved in close to 100% thanks to the correct communication of family, teacher and pediatric urologists.
Urinary incontinence in children; It is a socially important problem when not taken into account and may also be a symptom of serious diseases. Urinary incontinence, a common condition; it can only manifest itself as night incontinence or urinary incontinence both day and night. Urine control in children under normal conditions is provided at the latest from the age of 4 years. However, it is known that approximately 20% of 7-year-olds and 1% of 15-year-olds have a night-time urination.
urinary incontinence treatment
If children continue to miss urine after 6 years of age, treatment should be started. A significant number of parents think that drugs used for treatment of urinary incontinence cause infertility in children and refuse treatment. However, this understanding and belief has no scientific basis. Urinary incontinence is a major problem and should be treated in a timely, correct manner. Ultrasonographic screening, detailed urinalysis should be used to determine. If there is any structural disorder or infection related to the urinary tract. Children wetting their diapers while awake during the day should examine the situation in more detail. This problem, which does not disappear spontaneously, can often cause serious diseases and damage to the kidneys due to delayed treatment.
Approximately 10-15% of children with nocturnal enuresis can recover spontaneously in 10-15% of their cases. However, during this period. The urinary incontinence problem can cause psychological problems for both the child and his / her family. Urinary incontinence in children is a condition that should never be ignored.
Because urinary incontinence, as well as psychological and sociological effects, may be a sign of important health problems. Kidney failure, urinary tract inflammation, nervous system diseases, diabetes (diabetes), bladder diseases, hormonal problems are among these disorders.
Our previous article What Causes Nasal Congestion And The Fastest Get Rid Of Tips in the title how to ged rif of nasal congestion, nasal blockage ve nasal congestion information is provided..